Of course everyone has read my tweets and watched my FaceBook entries, so I do not have to tell you here that since last week I am the proud owner of a 64GB Wifi Apple iPad, bought in New York and legally brought into the Netherlands (after paying € 108 for VAT). So now having played with this astonishing device for almost a week I want to share with you my first impressions. But be prepared: I will only have positive comments, but had anyone expected anything else?
First challange, get my iBooks and iWork Apps.
Of course we all know, that the iPad is not an eBook reader pur sang. It can read eBooks very well and maybe even more comfortable than a Sony eReader, but I will come back to that  later. To read any books you first have to install the free Apple App iBooks on the iPad; strange that this program is not part of the system software itself, but anyway. So I went to the Apps Store with my current iTunes account. Of course this is a Dutch iTunes account and although there are already a lot of iPad programs to download from the Apps store, the most needed Apple apps were not available yet. So first I had to set up a US iTunes account. This is a little difficult without having a US Credit Card and a US address. But setting up an account without a credit card can be done and choose as your address the address from your most frequently visited hotel and your
account is set up. On eBay you can buy iTunes credits for the US iTunes / AppStore and redeem the codes on the site. See instructions and cards at http://www.cardscout24.us/
Having written this, I just found out that this weekend, due to the introduction of the iPad in a few European countries, the Dutch Apple store is up to date and that the programs I just mentioned are available. Now I can shop where it is cheapest (I am Dutch).
Look and feel.
The iPad is really fantastic. It makes a very solid impression and it is really fast. Not only changing the screen from landscape to portrait or the other way around as you turn the iPad but also the apps itself are very fast. The normal iPhone and iPod Touch programs can also run on an iPad but only use a small part of the screen (just like the iPhone screen size). They can be pumped up, but that gives the effect of zooming in a low res photo. The battery is a story in itself, because I have not seen a battery that lasts for so long. Some people have some difficulties in loading the batteries, but I still have no issues yet.
So what apps did I install so far and do they work.
As I said I installed the iWork family (Pages, Numbers and Keynote) from the US Appstore and they were "translated" into Dutch on the fly.
They work fast, but they have lost some functionalities compared to the iMac versions, I found out already. But after all you do not want to use your iPad for inputting and setting up big spreadsheets or whatever. I converted a MS PowerPoint presentation on my Mac to a keynote file and then transferred it to the iPad (you have to use iTunes for this by the way). It looked great on the iPad and almost every feature I used in that presentation worked on the iPad as well. But that is all basics. What kind of apps thrilled me as killer apps?
Goodreader
This application can read all kinds of different file types. But not only that, it retrieves the files from wherever you want the program to. So not only your own FTP site, but also from Dropbox, Gmail, Google Docs, MobileMe and a few others. It copies the requested file to your iPad and it is ready to "read".
Zinio
I have had a Zinio account for many years now. Zinio sells all kinds of magazines from all over the world and sends them to your computer or gives you the ability to read them online. I have subscriptions on magazines like MacWorld, Bloomberg Businessweek, iPhone Live and a few other (even Windows PC magazines). For the iPad a reader has been made by Zinio and it is really very good. The size of the iPad gives you a true magazine feeling and inzooming is so easy and of course all the Internet links in the magazines just have to be clicked to be taken to the site itself. So great!
Mobilenoter
This is a wonderful program for people that use MS OneNote very often. Mobilenoter can sync the iPad with your notebooks from OneNote so you can have all your notes, clips etc at hand
and everywhere you go. I even got my Acecad A502 up and running again as the software now has a "Send to OneNote" button. Imagine that all the pages you write every day are all stored on one location (and back upped of course) and can be seen on your iPad. No more memory losses, always everything on your iPad.
Games
I only have a few up to now. Mahjong, iSlots and Solitaire are a few that I would like to mention. There are already a lot of dedicated iPad games to be downloaded from the Appstore, but I am still very busy in the productivity area of the Apple Appstore.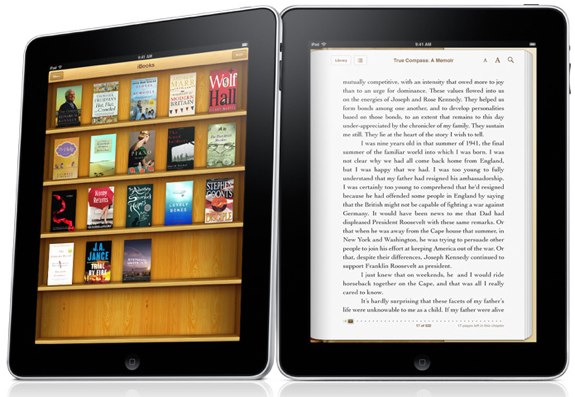 IBooks
Will this be the app that will people drive to buy an iPad? Is it better than the Sony Ereader. Well, being a very enthusiastic eBook reader I think the iPad will outperform all the ebook readers so far. Luckily the iPad uses the ePub format, so I was able to transfer my ebooks to the iPad. The quality of the screen is so much better and not only the size of the letters can be changed, but also the type font. There are 5 different fonts available. But what struck me
most was the speed. On my Sony eReader it will take some time to turn the page and the button to push to make this happen is also not on the most convenient place. Now I just have to tick the right of the screen and in a split second the new page is there to read. I do not know if the screen of the iPad will get my eyes fatigue after a few hours of read compared to the Sony. Could be. With the iPad I do not have to put on the light to read, but in the full sunlight the Sony will be better that the iPad probably. I will continue in the third episode of Stieg Larsson's trilogy Millennium on my iPad and will let you know. The joy of holding an iPad compared to holding a Sony eReader I did not take into account.
Final
I am sure that the Apple iPad will be the biggest hit of 2010. It will bring the Internet and Computing to many more people and it will give a new dimension to the current playing field. When you hold it, you will love it and you will never want to be without it. For those who want to wait until July, when the iPad will be introduced in The Netherlands I only can say: May the force be with you! My iPad is not for sale!

Did you like this?
If so, please
bookmark it
,
about it, and subscribe to the blog
RSS feed
.
Leave a Reply
You must be logged in to post a comment.